Optimizing Storage Mediums
Optimizing Storage Mediums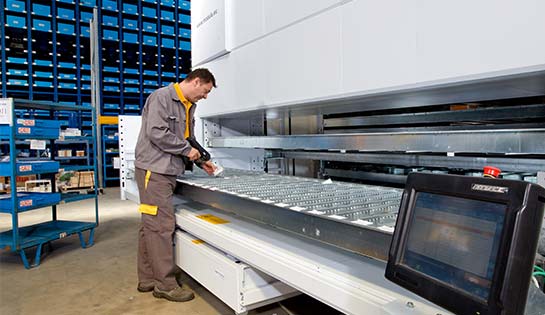 Increase Productivity and Cost Savings
Although it is the very reason for warehousing, inventory causes problems. It also generates tremendous returns when managed efficiently. Whether driven by expansion, consolidation or simply application of best practices, minimizing space and labor costs, while maintaining flexibility for future growth, is "mission critical."
Traditionally, appropriate storage mediums and order fulfillment processes have been developed through a "question and observation" methodology. That technique has been enhanced to include a "Data Driven" analysis. This approach focuses on thoroughly evaluating historical order activity. The process begins by reviewing the total number of daily orders, lines and pieces over a representative time frame. Daily averages are calculated and then adjusted based on business forecasts and historical review of peak activity. This information allows system staffing to be determined once the optimal layout and processes are identified.
The second component is an evaluation of individual item activity and size. This allows segmentation of each item based on pick frequency and required cube. Designations for "A", "B", "C" and "D" movers are assigned to every part number. Pareto's Law (20% of the items generate 80% of the movement) is quickly confirmed or denied in evaluating actual history. Storage medium alternatives are reviewed to optimize throughput and storage density.
Finally, order profiles are analyzed to determine order fulfillment processes. Without question, the demands of filling one order with 27 lines are different than picking 27 separate one line orders. The benefits of zone, wave and batch picking are measured against the challenges of marshalling, staging and packaging to ensure efficiency is maximized.
"Data Driven" processes evaluate each company's unique business needs to properly apply available technology and concepts to optimize labor and storage resources.