Read Our Story
---

Associated Material Handling Industries, Inc. was founded by Ed Allen in Chicago, IL on December 8, 1960. His vision was to provide customers with material handling equipment and services that would improve their warehouse operations.

Associated's first service vehicle: a 1953 Pontiac. The rear seat was removed for transporting parts. July 1962 at a Sunco Gas Station.

---

On March 9, 1978, Associated partnered with Raymond to become the exclusive Raymond Lift Truck Dealer in the Chicagoland market. This partnership elevated Associated's position in the marketplace because The Raymond Corporation was a leading manufacturer and innovator of material handling equipment.

Raymond Service School - 1979

---

In 1984 Associated acquired Allied Handling Equipment Company which expanded their Midwest market coverage to include Central Illinois and Iowa.

This acquisition, combined with Raymond's launch of the first computer controlled drive system and 36 volt Orderpicker, helped Associated to become the preferred warehouse solution provider in the marketplace.

---

Throughout the 90's, Associated further expanded its presence in the Midwest and became one of the largest material handling dealers in the country with the purchase of operations in Indiana, Minnesota, North Dakota and South Dakota.

Employees at Associated's office in Carol Stream, IL in the 90's

Employees at Associated's office in Eagan, MN in the 90's

During this time, Raymond continued to provide Associated with innovative products such as the ergonomically advanced control handle that allowed the operator to simultaneously execute all the functions of a lift truck with one hand. This along with other market leading innovations allowed Associated to provide additional value to customers. As a result, they were awarded Raymond's highest dealer honors throughout this time period.
---
Associated receives the Raymond Dealer of Merit award. Carol Stream, IL - 2001

To stay ahead of growing customer demands, Associated expanded their services in the 2000's to include Fleet Management and Engineering & Design Solutions.

The addition of these complementary services allowed Associated to provide its customers with additional integrated and flexible solutions to create sustainable value within their supply chain. This continued to keep Associated at the leading edge of innovation while providing valued solutions.

2007 - Groundbreaking for the new building in Addison, IL

2001 - the first AC Reach Truck

As Associated recognized the changing business environment, so did The Raymond Corporation as they expanded their product line, starting with the first AC-powered Reach-Fork truck built in America in 2001.
As the decade progressed, so did Raymond with the launch of several other innovations such as: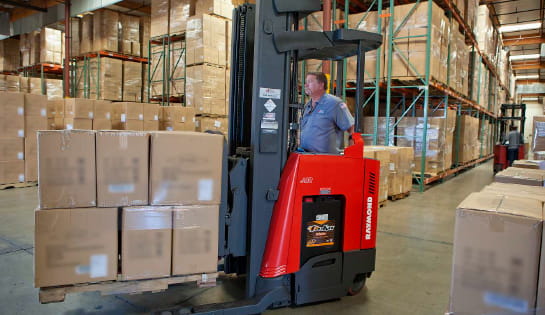 The Model 7400 Reach Trucks: giving operators unprecedented levels of productivity and ergonomics.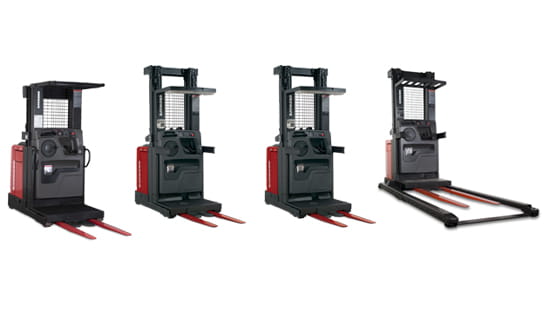 The 5000 Series Orderpickers and 8000 series Pallet Trucks: designed to boost productivity and enhance operator's comfort.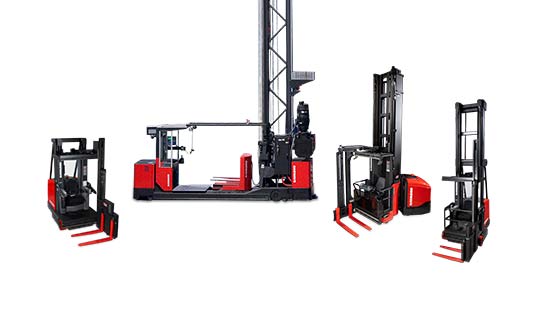 The 9000 Series Swing-Reach: offering industry leading energy-saving features.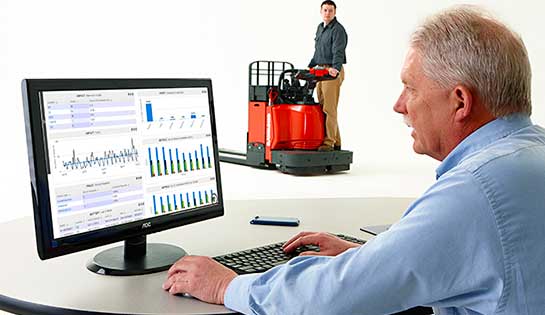 In 2008, Raymond introduced iWAREHOUSE: the industry's most comprehensive forklift fleet management system.
---
2010: new Associated logo

In 2010 Associated launched a new brand identity, Associated, which serves as the platform to provide our customers with enhanced levels of innovation and exceptional customer service.

In 2012 Associated partnered with TZA, a technology, consulting, and engineering company specializing in the optimization of labor performance. This partnership has enabled Associated to leverage TZA's expertise and experience in implementing labor management solutions and enhance the value Associated brings to its customers in increased workforce productivity, efficiency and operational cost reductions.

Left to Right: 4150 Stand-Up; 7000 series Reach-Fork; 8210 Walkie

Raymond also continued to be a market innovator during this time, starting with the launch of their 4000 Series Sit-Down and Stand-Up Counterbalance Trucks that were developed to provide users with enhanced levels of productivity, energy efficiency and performance.

They also launched their new 7000 Series Reach-Fork Trucks and 8000 Series Pallet Trucks that were proven to deliver 9% and 6% more productivity, and 21% and 33% more energy efficiency, respectively, than competitive models, based on independent third-party testing conducted by the United States Auto Club (USAC).

As the decade progressed so did Raymond with the unveiling of their new Sideloader model that was engineered to excel at handling a variety of load types in applications such as narrow aisle storage, pallet-less handing and long-load handing.
In 2016, Raymond introduced iWAREHOUSE Evolution, a scalable telematics platform that allows features to be easily aded or removed to suit your business needs - from essential forklift fleet management to maintenance tracking, remote service dispatch. labor management tools and custom consulting services.

In 2017, Raymond introduced its first lift truck powered by a Lithum-ion Battery as well as integrated technologies to create the next generation of lift trucks. That included a multifunction color touchscreen display built into the control system of the truck that provides real-time truck data.

In 2018, Raymond debuted its Virtual Reality simulator. A complement and supplement to training programs.
Stoffel Equipment Company

Near the end of the decade Associated acquired Stoffel Equipment company which expanded their territory to include all of Wisconsin and Michigan's Upper Peninsula.

Associated's continued approach to offering value based solutions and Raymond's innovations have helped them to become one of the largest Material Handling dealers in the country. This commitment has been recognized time and again through their receipt of multiple industry and professional awards, such as Raymond's Dealer of Distinction, Crain's Chicago Business' list of "Largest Privately Held Companies" and Inc. Magazine's 500 Fastest Growing Companies.

During the past six decades, Associated has forged long term relationships with its customers by providing leading edge design and engineering solutions, industry leading products and comprehensive support services that increase efficiencies and maximize cost savings within the supply chain. They have gone from one small store front in Chicago, IL with one customer to six locations service over 16,000 customers throughout the country. From one man with an idea to 400+ employees who work every day to create innovative solutions to improve their customers supply chain.

Although Associated has had a successful 60+ year history, they are looking toward the future. They are committed to developing new and innovative methods that provide value to their customer's supply chain.
---

Real World Solutions. Change The Way You Do Business.
For more information about us, please fill out the form below.