Engineering Studies Increase Productivity and Reduce Operating Costs by Doing More With Less
Engineering Studies… Increase Productivity and Reduce Operating Costs by Doing More With Less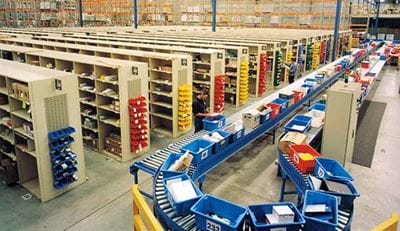 Material handling is now a strategic decision rather than a tactical activity.
Businesses are under increased pressure to reduce inventories, improve order-to-delivery cycles, and adapt to changing buying patterns and behaviors. Whether driven by expansion, consolidation or simply application of best practices, minimizing space and labor costs while maintaining flexibility for future growth is mission critical in today's operating environment.
Today's most challenging distribution center concerns include: increasing operational flexibility to handle fluctuating volumes, organizing daily workloads to meet changing demands, increasing storage capacity utilization, tracking pallets, improving bin management, increasing accuracy, implementing more efficient picking methods and increasing the efficiency and effectiveness of existing resources. And at the center of managing your warehouse is managing inventory.
Although it is the very reason for warehousing, inventory causes problems. It also generates tremendous returns when managed efficiently. Traditionally, appropriate storage mediums and order fulfillment processes have been developed utilizing a question and observation methodology. Today, that technique has been enhanced to include a data-driven analysis of your unique material handling systems, storage mediums and processes through the use of an engineering study.
The core of this approach focuses on thoroughly evaluating historical order activity. The process begins by reviewing the total number of daily orders, lines and pieces over a representative time frame. Daily averages are calculated and then adjusted based on business forecasts and historical review of peak activity. This information allows system staffing to be right sized once the optimal layout and processes are identified.
The second component is an evaluation of individual item activity and sizes. This allows segmentation based on pick frequency and required cube. The processes for zoning by items according to Pareto's Law, 20% of the items generate 80% of the movement, is quickly confirmed or denied. Storage medium alternatives are reviewed and optimized for warehouse throughput and space utilization.
Finally, order sizes are analyzed to determine potential agility enablers. Without question, the demands of filling one order with twenty-seven lines are significantly different than picking twenty-seven separate one-line orders. The benefits of zone, wave and batch picking are measured against the challenges of marshaling, staging and packaging to ensure efficiency is maximized.
An engineering study's data-driven approach to evaluate a company's unique business needs will result in real world, actionable recommendations to optimize labor, storage resources, material handling equipment and business systems. Payback periods of twelve to eighteen months are generally realized by implementing the recommendations resulting from a well developed engineering study.
Whether your warehouse is large or small, engineering studies offer real-world potential to generate significant returns.
---
Consulting
|
System Integration