Fleet Management The Cost Saving Solution
Fleet Management… The Cost-Saving Solution You Can't Afford Not to Have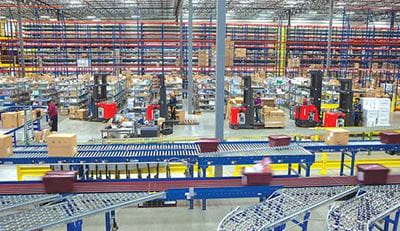 Material handling is now, more than ever, a strategic goal rather than a tactical activity.
Businesses are under increased pressure to reduce inventories, improve order-to-delivery cycles, and adapt to changing buying patterns and behaviors. Software and information technology are converging with material handling equipment, providing customers with more efficient and easier to maintain equipment.
During these economic conditions many companies are under pressure to cut costs but still maintain output. One area that has significant cost savings is optimizing existing material handling systems and equipment. By implementing a fleet management program, many companies are reducing downtime, extending product life cycles, and decreasing capital expenditures.
Effective fleet management focuses on reducing system inefficiencies, embracing planned maintenance and effectively managing your fleet to reduce your overall costs. A concern for many companies is getting the best performance out of existing material handling systems and equipment without increasing wear and tear or maintenance costs.
Industry surveys confirm that 94% of lift truck owners do not consistently monitor costs associated with their fleet. Unfortunately, these companies often incur inflated costs as there is little insight into the true drivers of maintenance and operational expenses. The situation is further complicated as few companies have mechanisms to determine fleet replacement timing or equipment utilization.
As a result, lift truck fleets increase in size with the addition of supplemental rather than replacement units. Cost increases in maintaining the inefficient older equipment are compounded by the price of this supplemental equipment and certainly the required costs to operate and maintain those units. It becomes quickly apparent why companies without a fleet management program pay 10% to 20% more in maintenance and operating costs than those with active fleet management programs.
Maintenance reporting is the foundation of virtually every fleet management program. Increasingly, lift truck owners now expect more than informational reports requiring subsequent internal time and effort to leverage into action steps. The true benefit to the end user is not the compilation of information, but the accurate interpretation of the data into actionable recommendations. Further, it is critical to determine whether ongoing issues are root cause problems or merely symptoms which will continue if the source is not addressed. Fleet management professionals offer the experience and resources to make these determinations. Their findings are often presented visually in charts or graphs depicting metrics such as cost per hour, utilization rates, avoidable expenses and equipment vintage. Drill down reports by location, department, model and unit allow clear visibility into each dollar spent on the fleet.
Enhanced fleet management evaluates the application in which the lift truck operates. As lift trucks exist to move product, factors impeding the optimization of throughput are analyzed. These include dispatching, operator training, inventory slotting and order packaging. It is important to note the efficiency of these functions not only impacts productivity but also maintenance costs as well. Once analyzed, fleets can be right sized for the application which often is the most important benefit of fleet management. For reference, conservative estimates have $30,000 of labor and operational costs being saved annually for every lift truck reduced from the fleet.
Whether your fleet is large or small, Fleet Management programs offer real world potential to generate significant returns for today's lift truck owners.
---