Tips for Proper Pallet Maintenance and Storage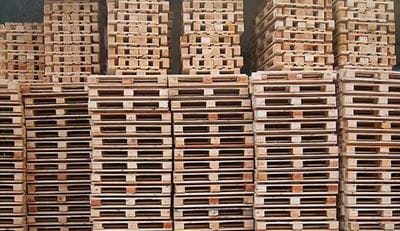 We have often heard of neighborhoods losing many if not all of their trees due to infestations such as the Asian long horned beetle, the emerald ash borer and other wood boring insects.
However, these same pests can infect your warehouse, disrupt your supply chain and cause significant costs to be incurred. These pests invade your supply chain through pallets brought into your facilities. In addition to pests, fungus, viruses, and other contaminants can also taint your pallets and disrupt your supply chain.
In a warehouse setting where wooden pallets or packaging is stored, pests can invade that product. Items can be destroyed before they reach the consumer, causing loss of inventory and revenue. However, what if that same product reaches the consumer?
Pests and other contaminants can be devastating in the food or pharmaceutical setting too. If these products are infected by any kind of pest or contaminant the product cannot be used. Should this product reach the consumer it could lead to illness or death.
In both of these situations the ramifications do not end at product loss. There is also financial damage to consider. In many cases of product recalls, lawsuits are filed, especially if injury, illness or death have occurred. There is also the damage done to a company's reputation which can result in lost sales.
There are ways to prevent this from happening.
First and foremost, check to ensure your suppliers are following guidelines set forth by the International Standards for Phytosanitary Measures (ISPM).These guidelines include the International Plant Protection Convention (IPPC) logo, country of origin, unique treatment provider code, and how the pallet was treated.
ISPM-15 Marking

XX: Country Code

0000: Treatment Provider Code
YY: IPPC Treatment Code
Second, make sure the pallet has been treated.It's important to know how it was treated. For instance, the chemical treatment methyl bromide (IPPC code "MB" cannot be used with any products that could be ingested.
It is good practice to include on your purchase orders what method needs to be used on pallets for materials and/or product coming into your facilities. In addition, receiving staff should be trained on checking incoming shipments for the IPPC logo and how to handle shipments that do not meet your company's criteria.
Finally, pallet storage at your facilities should be reviewed and controlled. Pallets stored outside and uncovered are subjected not only to the weather but also to animals in the area.