What is the Best Service Program for your Environment?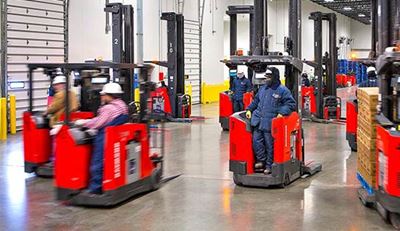 Most car owners know to perform regular maintenance to keep their vehicles running reliably. When an older car becomes too costly to repair, the owner needs to evaluate whether it's time to purchase a new one.
The same is true for forklifts. Once the initial investment is made to purchase a forklift, ongoing management of the fleet protects the investment. But there are more benefits to ongoing forklift maintenance than just extending the truck's life. With a properly managed lift truck, companies can also enjoy less downtime and increased productivity.
In today's environment, only about 20% of the total cost is associated with the acquisition of equipment, the other 80% is related to operator and maintenance costs. With such a large percentage of costs dedicated to maintaining equipment, companies can't afford to ignore the importance of a well-coordinated maintenance program. When a forklift is not properly maintained, it may cause unexpected and extended downtime for repairs. Choosing the correct service program is essential for decreased downtime, increased productivity, and overall cost reduction. Below is an overview of some common forklift service programs:
Scheduled Maintenance Program: Your service provider will inspect and maintain lift trucks at specified intervals to ensure your fleet remains in top mechanical shape, and meets all safety requirements. Helps to maximize uptime and productivity by catching any minor issues before they become major repairs.


Comprehensive Fixed Price Maintenance Programs: Typically includes everything in the Scheduled Maintenance Program, but offers much more. With the exceptions of Damage/Abuse, the service provider typically covers all labor and parts for a fixed monthly fee. This essentially allows you to opt out of the forklift repair business and concentrate on running your own business. Additionally, it provides greater consistency in planning yearly budgets because of the fixed rate.


Block of Time Programs: This program allows you to essentially purchase a service technician's time at a discounted rate. Very effective tool for environments that have in-house technicians who may be taking an extended leave or who have abruptly left the company. This also works well for environments that experience defined seasonality.

Break Down Only Service Calls: This is not a contact program but instead you would call for service only when your truck is broken. This strategy is used primarily with Companies that have in-house technicians and when the repairs may exceed the skill level of those technicians.


Rental Equipment: This strategy does not necessarily fall under the "service option" term, but is an excellent option for startup businesses that may not have the capital to purchase trucks. It also works well for environments with "peak seasons" or companies who have constantly changing needs.

The ultimate goal of any forklift user is to keep moving products quickly and inexpensively with as little downtime as possible. Outsourcing lift truck maintenance to an authorized equipment dealer will provide more time to focus on core business activities and reduce the time spent worrying about forklifts.