10 Questions to Ask Before Purchasing a Carton Flow System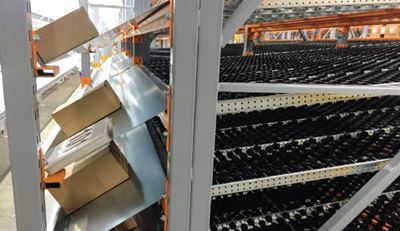 A carton flow system can be an invaluable tool for efficient, space-saving order fulfillment of cartons and each items.
Here are some of the key questions you need to evaluate in order to establish the best carton flow racking for your operations.
How many SKUs do you expect to handle in your carton flow system? The number of SKUs play a critical role in defining system configuration, including the number of lanes and shelves needed per bay.


What is the velocity of SKU fulfillment? SKU velocity is another major design factor needed to further define your carton flow configuration.


Are the boxes a consistent or varying sizes? The answer will help narrow down the carton flow track types you need.


Are there totes and what are those sizes? Totes are a great option for each picking from carton flow rack.


What future growth are you planning for? No one can predict the future, but with a good understanding of your long-term plans you can better determine a system to handle current volume and accommodate future product.


What is the carton weight range that will be loaded into the system? There are several designs to accommodate different product weight ranges.


Are you planning on dividers for your system? Dividers provide a quick visual product separation and support orderly SKU sortation. By making SKU locations quickly and easily visible from both the pick and the replenishment sides of the system, you can boost pick time and accuracy.


What is the surface area/s of the containers? This will help determine wheel configuration, wheel spacing and the type of wheel for the system.


Will the system require brackets and connection methods? There are carton flow systems available to handle a variety of picking and storage needs – within shelving, pallet rack and pick modules.


Consolidating SKUs into rack or pick module? A pick module combines pallet rack, pallet flow and carton flow with additional material handling solutions in a complete system designed to optimize product flow.
Ultimately the decision to purchase a carton flow or any other material handling system can come with a set of challenges, but the more information you have up front the better position you are in to make the best decision for you company.