The Benefits of Contract Maintenance on Your Culture and Bottom Line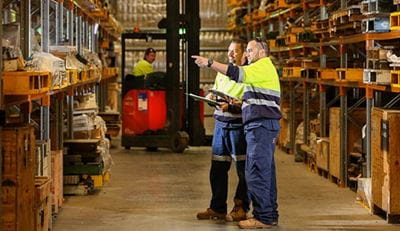 There's no one size fits all for forklift maintenance. Optimizing your fleet, preparing for new technologies and relying on expertise can increase workforce productivity and leverage lift trucks for the best suitable task.
Optimizing Your Maintenance Operations
Most operations are constantly looking for ways to optimize their operations. Many have found that contract maintenance can help increase efficiency through outstanding service across your fleet while cutting costs in the long run. Through scheduled downtime and maintenance intervals, you can streamline and set monthly operational costs as well as maintain all shipping and receiving commitments.
Contract maintenance can plan scheduled checkups and replace failing parts before they become a larger issue. Because of this, the labor cost is lower than having to respond to breakdown calls and uptime is increased for the user to boot. The situation can be managed quickly and efficiently, benefiting all parties involved.
The growth and continuous improvement of your fleet influences the rest of your plant by creating a labor and time saving culture across the board. Including contract maintenance in your operations keeps you, your team and your fleet running smoothly while encouraging improvement in any possible way through proactive maintenance.
New Technology Requires Industry-Leading Expertise
As more sophisticated trucks and systems enter your fleet, it can be difficult and time consuming for your in-house staff to learn the different skill sets associated with the new technologies. An automated goods-to-person system with robotics, for instance, requires a different level of maintenance expertise than those needed for lift trucks or conveyors. Partnering with experts from your local dealer ensures you maintain a well-functioning, productive operation.
Specialized maintenance teams are able to service more complex equipment and can provide you with proper forklift care no matter the brand you're working with. Keeping up with new trucks can be daunting at times, but with experts on your side, your operation can continue to adopt new technology.
Supplement Your In-House Team
You can get the best of both worlds by having an in-house team on scheduled maintenance items that don't require a high-level skill set and calling on contract maintenance for more complex, technical issues. Bigger jobs that require more specialized skills are often suited for contract maintenance. Additionally, the specialized skills of contract techs guarantee the parts changed out are correct.
There are plenty of benefits that come from utilizing contract maintenance alongside your team as it brings a proactive approach to your fleet. It can be a great way to avoid unexpected downtime, features lower overall costs, higher uptimes as planned intervals of maintenance and repairs are provided, higher fair market value allowances at the end of a lease term, as well as cost protection from unexpected equipment failure.
---
There are plenty of different approaches to contract maintenance. The important thing is that you find a good fit for your fleet. Contract maintenance is one way to ensure up-to-date equipment, proper care through specialized expertise, and continuous improvement throughout your workspace. Be sure to contact your local contractor to find the best fit for you.