Forklift Maintenance Checklist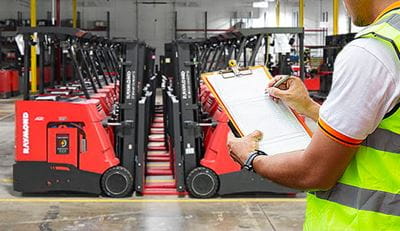 The phrase "Forklift Checklist" can mean a wide range of things depending on the industry, application, and business using the term. What does it mean in your particular business? Safety, inventory, fleet management, or something else? With so many possible definitions, we'd like to draw attention to one version that isn't as widely discussed: the Forklift Maintenance Checklist.
This Maintenance Checklist is integral to every lift owner's
fleet management and service program
, whether it's carried out by trained internal maintenance staff, or a third-party maintenance and service provider.
Read on for a discussion of core forklift maintenance items and an example checklist format that your business can use today.
---
Forklift Maintenance Checklists
For those readers who've gone through formal forklift operator training, you'll be quite familiar with OSHA's daily pre-shift forklift inspection checklist. Required by code section 29 CFR 1910.178, OSHA calls for a mandatory inspection of a fork truck before an operator is allowed to use the lift, checking that the lift is in good, safe condition for the day ahead.
This inspection is typically documented via a written or digital checklist every time it's conducted, and these checklists are widely available from forklift manufacturers, distributors and online sources. A common point of confusion however is that these Daily Forklift Inspection Checklists are not the same as Forklift Maintenance Checklists, an important distinction that forklift operators and owners must understand.
A Forklift Maintenance Checklist covers detailed mechanical, electrical, safety, and functional elements of a lift, and are specific to every lift manufacturer, model, and configuration. Maintenance Checklists are intended to be carried out by trained maintenance or engineering staff, just as your automobile's service checklist is meant to be carried out by trained auto mechanics. Also similar to automobile maintenance, a general list is very often found in each forklift's Owner and Operator Manual that came with the forklift, and a more thorough, technical version is available only to factory-authorized mechanics. In most cases, a documented history of performing manufacturer-required maintenance is necessary to maintain a forklift's warranty using this maintenance checklist.
Too often, owners mistake a general Daily Checklist for their lift's actual Maintenance Checklist, never looking in the lift's manual to find this critical information. We'll share a common list of Maintenance Checklist items in the sections below, though remember that owners must obtain their specific lift's maintenance requirements directly from the manufacturer. Maintenance requirements can vary widely depending on lift design, engine type, power source, capacity, use environment, and any installed accessories.
---
General Walkaround
Forklift maintenance always begins with a general walkaround of the forklift, looking for indications of issues that will need further attention. While this starting point will seem very similar to the Daily Operational Checklist's walkaround, here we do not just document what we observe, but also address any concerns during this maintenance work as well.
General

Maintenance Item

Condition

Action Taken

Body Damage

Leaks Under Lift

Accessories Preset or Missing

Nameplate Readable

Warning Labels in Place

No Loose Cargo in Lift

All Latches, Restraints, Straps and Tie Points in Place
---
Safety
With the general walkaround complete, now we proceed to check and maintain our lift truck's safety systems. Safety is the single most important element to check on a powered industrial lift, and all systems play into lift safety in some way. Here we'll check all intentional safety features directly, and in later maintenance areas, we'll continue to keep operator and bystander safety fully in mind as we complete this service.
Safety

Maintenance Item

Condition

Action Taken

Guards in Place

Seat Belt Undamaged

Seat Belt Clasp Holding (pull test)

Safety Devices Present (fire extinguisher, warning labels)

Lighting all Functional (headlights, turn signals, rear lifts, safety lifts)

Audibles all Functional (horn, reverse beeper, other)
---
Load-Handling
We've completed our general safety checks, and now can proceed to the next most important feature set on our forklift: its ability to handle and manipulate a weighted load. Here we'll check that the lift is stable when loaded, and that all features which enable the lift to safely maneuver while loaded are in proper working order.
Load-Handling

Maintenance Item

Condition

Action Taken

Tires, Wheels Free from Damage and Excess Wear

Forks Free from Damage

Forks Square and Plumb

Forks Mounted and Secured Properly

Attachments Installed Properly

Counterweight in Place and Secured

Chain and Gears Free from Damage and Excess Wear
---
Electromechanical & Engine
Next in our maintenance efforts we'll open up our lift to check all electromechanical and engine features. Here we perform the core of our technical maintenance work by inspecting, servicing, calibrating, and confirming that our lift's complex internal systems are all in good working order. This section of work must especially be performed by a qualified technician, mechanic, or engineer familiar with each system. Most lift manufacturers will have a very detailed service list for these systems, varying the service performed by the lift's run hours and environmental exposure. For example, a lift having operated for 1,000 hours in a clean warehouse will have different service requirements than another lift operated for 5,000 hours in an outdoor construction environment.
During this service, most lift manufacturers will also require (or at least suggest) replacement of key wear parts at regular intervals. Filters, fluids, bearings, and bushings are common consumable parts replaced during routine forklift maintenance.
Electro-Mechanical & Engine

Maintenance Item

Condition

Action Taken

Fill all Fluids (lubricants, hydraulic fluid, coolant)

Check Belt Tensions

Inspect Fuel System (delivery line, filters, tanks, battery packs)

Inspect Hydraulic System (all lines, pump, filters, reservoir)

Inspect Brake System (cables, pads, pedal, sensors)

Inspect Steering System (cables, hoses, reservoir, power pump)

Inspect Drive System (transmission, rotors, clutch, U-joints)

Inspect Electrical System (gauges, meters, ignition, switches)

Inspect Air System (filters, intake, manifolds, sensors)

Inspect Exhaust System (filters, manifold, mufflers, sensors)

Inspect Engine System (spark plugs, block, ignition)

Inspect Cooling System (coolant quality, filters, radiator fins)

Check Engine Compartment for any Leaks or Debris

Check Lift Overall for Corrosion

Check Documentation (manual and safety card in lift)
---
Operational
Now we're ready to fire up our lift and check its functionality under full operational conditions. For maintenance purposes, all operational checks below should be performed in a controlled environment, so that any issues discovered do not present any risks to nearby employees or materials. Performing these tests requires an intimate understanding of the lift's factory operational parameters – in other words, technicians must understand what passes for 'normal' with this style and configuration of lift. Operational testing is both qualitative and quantitative in nature, heavily relying on the technicians ability to discern proper from improper performance.
Operational

Maintenance Item

Condition

Action Taken

Power On Test (all systems engage and respond as expected)

Steer Test (smooth and precise steering movement)

Brake Test (smooth and prompt response at speed and under load)

Acceleration Test (smooth and even acceleration)

Deceleration Test (smooth and even engine / rotor braking)

Parking Brake Test (under load and with light engine power)

Hydraulic Controls Test (smooth, proper, responsive operation)

Accessory Test (all attachments function properly under load)

Safety Features Test (lift and tilt limiters, travel limiters, etc)

Battery Test (charge, discharge, and capacity)

Advanced Testing (for self-guided, wire-guided, and similar lifts)

Automation Testing (for all telematics, reporting, and self-driving lifts)

Power Off Test (all systems disengage and shut down as expected)
Click here to download our Forklift Maintenance Checklist
---
Associated serves the Upper Midwest's Material Handling market with Integrated Supply Chain Solutions, Warehouse and Distribution Operation Optimization, Lift Truck Fleet Management, and Consulting Engineering services. We assist customers onsite and remotely from our Addison, IL corporate office and five regional branches near you. For more information or to discuss your Material Handling project needs, please visit our website here, or contact us at [email protected] or (800) 755-7201.
---
#forkliftrepair, #forkliftservice, #forkliftmaintenance, #forkliftmaintenancechecklist, #forkliftrepaircompanies, #lifttruckmaintenance #lifttruckrepair