Impact of Telematics in Fleet Management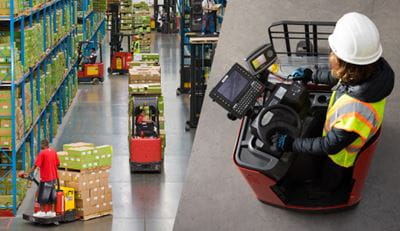 How do we reduce lift truck accidents? Are our warehouse vehicle s being used efficiently? How can we cut fuel and maintenance costs? To help fleet managers approach questions like these, we discuss telematics technology in warehouse fleets and how you can benefit from incorporating them into your operations.
Warehouse managers today are faced with difficult questions about their material handling operation, and often don't have access to the raw data needed to properly respond. How do we reduce fork truck accidents? Are our warehouse vehicles being used efficiently without excess down time? How can we cut fuel and maintenance costs? To help approach questions such as these, the modern advent of telematics serves to inform stakeholders about every aspect of their warehouse vehicle fleet in real-time by extending their information technology systems down to each vehicle itself. In this article, we'll discuss telematics technology in warehouse vehicle fleets, and how you can benefit from adopting telematics in your operation.
---
Telematics - An Overview
Strictly speaking, the term telematics is defined as the combination of two words - telecommunications and informatics – used to describe systems that capture, transmit, receive, store, and retrieve information from remote devices over long-distance networks. In practice, telematics is mostly used to refer to information systems that involve vehicle fleets, such as those in the logistics and shipping industries. Such systems monitor and transmit data from vehicles anywhere in the world back to central computing systems, where a broad range of analytical and managerial data processes can be carried out.
In essence, a telematics system begins with a small tracking device installed on a given vehicle, which serves to capture, send, and receive data generated by sensors onboard the vehicle. This device then transmits data over Wi-Fi, mobile cellular, satellite, or other long-range communication networks back to its parent server. This server can live in the cloud or on-premises at the fleet's company office. The server uses received data to execute managerial and analytic tasks, displaying the raw information and resulting conclusions in a variety of ways that users can act upon
In supply chain environments, telematics is used most commonly with industrial trucks such as forklifts, walkie stackers, order pickers, side loaders, and more.
---
Capabilities and Features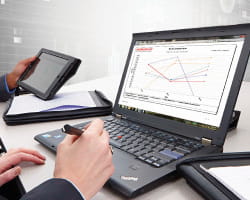 Data captured from material handling vehicles can include data points such as travel speed, acceleration and braking times, fuel consumption rate, location, operator ID currently using the vehicle (by way of scanning the operator's badge), vehicle problem codes and faults, and practically any other variable that can be detected with a sensor.
Once gathered, this data is sent off to central computing servers for further processing, turning raw
data into useful information to be used for strategic business purposes. While data gathering and transmission from far-off locations makes up the bulk of the hardware foundation in telematics, the real power of the system is found in how captured data can be used to improve tangible conditions within the business
Said another way, the 'real' purpose of telematics systems is to provide beneficial information that can serve key company objectives, such as:
Improving safety
Increasing productivity
Bolstering profitability
Reducing maintenance and service costs
Meeting regulatory compliance requirements
Driving sustainability
Promoting healthy, positive employee working conditions
---
Material Handling Vehicle Fleet Management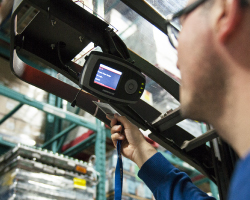 Telematics systems are most often installed with an onboard interface on each vehicle, which operators use to scan into with ID badges, allowing them to contribute to fleet-wide performance monitoring at an individual level. As operating data is sent back to central servers from the vehicle and processed in conjunction with the rest of the fleet's data, real-time updates and any pertinent messages are provided back to each operator in order to keep everything running in an optimal fashion.
Meanwhile, managers and other stakeholders can observe and react to real-time conditions presented to them on their desktop, mobile, or in-plant interfaces. The objective of telematics in warehouse fleets is to optimize performance and productivity, promote accountability, monitor compliance, manage down risk, and gain a snapshot of warehouse-floor status at any given time.
The topic of promoting accountability is of special interest given the significant role that operators play in modern warehouses. For less-automated warehouses, operators hold the keys to productivity in their every decision, from selecting efficient routes to safely picking objects in a speedy fashion. In more-automated warehouses, the use of Autonomous Guided Vehicles pushes human operators towards the more technical, varied, and risky fork truck uses, compounding the need for safe and diligent decision making. In both cases, telematics allows managers to see into each operator's world, gaining insight into their driving, safety, and risk-avoidant habits. Such situations as operators frequently hauling loads over their lift's capacity in order to hit time metrics, or impacting objects with their lift, cannot go unseen with telematics systems.
Further to the above point, telematics allows business managers to now drive warehouse Key Performance Indicators (KPIs) at a more visceral level. Where before, such KPIs as fuel efficiency factor, operator impact quantity, travel vs idle time ratio, and average/max speed no longer rely on manual reporting, but now can be directly and automatically gathered by the lift truck itself. While telematics may initially be viewed as an encumbering eye in the sky, we feel that both operators and managers must thoroughly discuss the objectives of deploying such technology, and ultimately agree that the benefits of telematics are in everyone's best interests for a safer, more productive, 'smarter' working environment.
---
Application & Objective Examples
Telematics certainly provides managers with a wealth of information about their forklift and warehouse fleet vehicles – too much, in many ways! Savvy system designers will work hand-in-hand with business stakeholders when deploying these systems, making sure that they're prioritizing information processes that are of interest and will benefit the business in meaningful ways. Many companies start out with the below most common goals with their new deployments and expand to more advanced objectives as the low-hanging goals are achieved.
Energy Optimization – right out of the box, telematics systems can be tasked with cutting fuel expenditures by way of a relatively easy route optimization process. The telematics system will capture data points such as forklift paths, idle times, traveling times, and acceleration profiles, analyze these for waste, and then suggest improvements that can be made to cut fuel use. Improvements are often found in redesigning pick routes for the shortest paths between picks, limiting unnecessary acceleration (down to individual operators), and cutting out time spent waiting and idling (by sequencing other forklift paths so that there are fewer 'waiting in line' situations).
Safety Maximization – in material handling environments, safety management typically involves vehicle, pedestrian, and workflow elements in equal order. Vehicles should be driven in a safe and conscientious manner, which telematics monitors and manages down to individual operators and vehicle types (notably in terms of harsh driving habits that need to be trained out).

Pedestrians and pick workers on foot often work adjacent to fork truck lanes, which telematics can improve by generating specific traffic routes that separate these group from each other. Workflow improvements that promote safety can come in the form of minimizing order congestion in certain warehouse areas by applying telematics-generated work and pick schedules. Additional onboard sensors can be added to sense if a lift is under- or over-loaded, if an impact occurs, and if a lift is traveling too close to objects.
Operating Cost Reduction – fork truck and warehouse vehicle fleets cost a lot to operate and maintain, no doubt about it. Maintenance costs are typically the highest when a business waits to perform service work in a reactive fashion, after a fault or failure occurs. A better option is to take a proactive approach to truck maintenance, especially by using telematics systems that use real vehicle operating data to predict maintenance needs ahead of time.

Telematics can be combined with maintenance management systems to order replacement parts, advise upcoming inspection needs, and schedule vehicle service, avoiding the premium costs and vehicle downtime associated with reactive maintenance entirely.
Regulatory Compliance – distribution and manufacturing companies are especially exposed to regulatory and customer scrutiny these days, given the rapid expansion and unprecedented demand most organizations are feeling (meaning that safety risks, under-performance, and financial losses cannot be tolerated). Third-party certifications are increasingly finding their way into the industry, such as with ISO 9000 governing quality management elements within a business.

Telematics automates and supports regulatory compliance by documenting and reporting regulated workflows and provides stakeholders with the information they need to improve these workflows over time. One great example of this can be found in telematics requiring OSHA-compliant pre-shift vehicle inspections, which can be managed and required at the vehicle via an onboard interface that restricts vehicle use until the operator completes their check.
Advanced Opportunities – telematics provides an incredibly powerful resource towards achieving more advanced objectives within a material handling business. Sustainability objectives are fantastic examples, where the use of telematics can solve for such elements as lowering CO2 emission, reducing battery charging impacts on power generating utilities (IE charging on off-peak hours), marking poorly performing vehicles for replacement, and benchmarking performance across fleets to identify the most efficient vehicles and work processes.
Associated serves the Upper Midwest's Material Handling market with Integrated Supply Chain Solutions, Warehouse and Distribution Operation Optimization, Lift Truck Fleet Management, and Consulting Engineering services. We assist customers onsite and remotely from our Addison, IL corporate office and five regional branches near you. For more information or to discuss your Material Handling project needs, please visit our website here, or contact us at [email protected] or (800) 755-7201.
---
#fleetmanagement, #telematicssystem, #iwarehouse, #forkliftmanagementsoftware, #howtelematicsworks