Types of Warehouse Conveyors: How to choose the right one for your application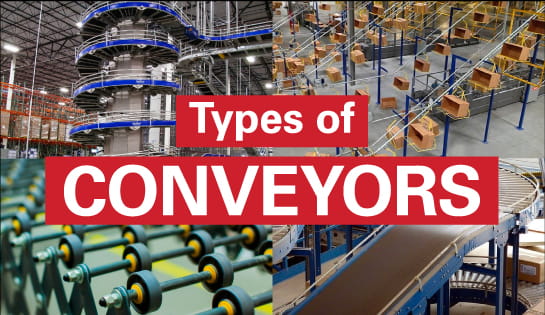 Associated University takes an in-depth look at types of conveying systems within a distribution environment and how the select the one that is right for your application.
In modern distribution centers, the transportation of goods between steps in the overall workflow is largely an automated, mechanized process these days. Conveyors and conveyance systems play a major role in offsetting human labor to move, stage, and otherwise handle materials as they funnel through the warehouse. In advanced applications, specially designed conveyors can also provide benefits beyond simple material movement, such as serving in sorting, orienting, and accumulation roles. In this article, we'll discuss the many different styles and configurations that conveyors can take in material handling applications, as well as key considerations when comparing conveyor options.
The Role of Conveyors in Material Handling
Categorizing conveyors can be a linguistic nightmare, with so many terms being used interchangeably and in reference to different aspects of a conveyor's overall design. To help bring clarity to the discussion, we'll sort conveyor nomenclature into the following groups, chosen to match up with their engineering details and how a buyer would go about the process of specifying a new conveyor:
Application Specification – when selecting conveyors, the typical starting point is on the application type or specification, which describes the expected environment, strength, durability, and other features of the application that the conveyor must support. Determining the specification up front also serves to limit all of the below choices to only those acceptable to the job being performed. In material handling, typically this translates to conveyors made of steel or aluminum, painted finish, 480VAC three-phase motor power, and various safety features.


Surface Types – next, we select the desired surface type, which is mostly a function of what material the conveyor will transport.


Power Type – third, we select the motive power type and drive details.


Installation Scheme – we'll next select the installation scheme for our new conveyor, describing how the conveyor is to be supported and secured.


Conveyor Styles – lastly, we'll choose the style of conveyor to meet our application's needs (which are usually made up of multiple styles built into a larger system.
There are many more details that are usually covered in conveyance projects, but the above list captures the basics of comparing conveyor design features across the main categories of decisions needed to fully specify a solution.
While we're only covering the mechanical details of conveyor selection in this article, it's worth noting that buyers must also consider what electrical and automation components will be needed to operate the conveyor. Will a manual On/Off switch be sufficient, or will some level of automation and safety control be needed? Make sure to continue this discussion with your supplier before purchasing, as it may impact the specifications selected above.
Material Handling Conveyor Surface Types
We begin our selection process by picking a surface type for our conveyor. Surface types are commonly selected based on the materials being transported, as well as expectations for ongoing maintenance, tensioning, durability, lifespan, and safety.

Roller Conveyor

Roller Conveyors are largely considered to be the most basic conveyor surface type. These conveyors consist of closely-spaced cylinders that each rotate on bearings at either end, allowing materials to roll across their tops down the length of the conveyor. Roller Conveyors can handle a wide range of weights, and can also be powered or unpowered (more on this below). Light-weight materials may not provide enough friction to the rollers, making them difficult to convey. Rollers are used most often for long, straight runs where speed and product drift are not concerns.

Belt Conveyor

Belt Conveyors are the next most common type of conveyor found in distribution centers, consisting of a single polymeric or composite belt that is tensioned against a powered motor that rotates the belt. Belt conveyors typically have flat plates or rollers that the belt slides across, allowing it to carry a moderate weight at higher speeds. Belt conveyors are selected for odd-sized, non-solid (EG bagged), low-to-medium weight materials that need to be conveyed at a consistent speed without drift.

Chain Conveyor

Designed for powered conveyance of very heavy loads, true Chain Conveyors are selected for their ability to maintain tension and resist slippage in heavy-duty applications. Chain Conveyors are most often used with pallets or hard plastic containers, due to their potential to imprint, scrape, damage, and transfer lubricant into the surfaces that they contact.

Table Top Conveyor

Also known as Slide-Chain Conveyors, these conveyors consist of multiple "links" of hard plastic or metal plates, designed to withstand wear, elongation, and heat in a small form factor. Table Tops Conveyors also provide the benefit of combing straight and turning segments in the same chain length, reducing the amount of drive ends needed as compared to other conveyor surface types.

Ball Transfer Conveyor

This conveyor type allows for manual conveyance of a solid-bottomed material in any direction. Ball Transfer Conveyors are most commonly found at the infeed or outfeed ends of powered conveyor lines, where operators are feeding or removing materials from multiple sides. In economical applications, Ball Transfer Tables are installed in places where powered conveyors split in multiple directions, tasking an operator to route materials in lieu of more expensive automated routing conveyors.

Skate Wheel Conveyor

Small, free-spinning wheels known as Skates are installed on sturdy axels down the length of a conveyor segment, making up what we refer to as Skate Wheel Conveyors. These conveyors are used for non-powered transport of solid-bottomed, medium to large size, light to medium weight materials. Skates are often selected over rollers where lighter weights and lower forces are in play.
Conveyor Power Types
In material handling applications, conveyors typically fall into one of the two power types described below. Power types are selected for active (powered) or manual (gravity) conveyance, and further specified by product weight and size, conveyor surface type, speed, and function:

Powered Conveyor – a powered conveyor utilizes an electric motor or hydraulic drive to provide the motive force needed to transport materials. Users may also see the term "live" in reference to powered conveyors, such as with "live roller conveyors". Buyers will have more details to discuss when selecting a powered conveyor, such as motor sizing, electrical specifications, motor rating, drive type (belt, chain, etc), and more.
Gravity Conveyor – compared to a powered conveyor, a gravity conveyor is extremely simple, as it relies on the force of gravity (or human force) to convey materials from end to end. Typically, conveyors designed as gravity-powered are used for declines, straight runs pushed forward by upstream powered conveyors, and infeed/outfeed segments where operators benefit from the safety of non-powered conveyors.
Conveyor Installation Schemes
Once we have surface and power types selected for our application, next we can decide on how our new conveyors will be installed. Installation schemes are generally chosen by function, free space, and workflow design.

Floor Installation

Floor Installation (or Floor Conveyors) describes segments mounted directly (or very close) to the ground. Typically, floor mounting is used for full pallet stacks due to their weight.

Leg/Free Standing Installation

Free Standing Installation places conveyor segments up on legs, posts, or stands, positioning products at working height where employees can interact with the materials being conveyed. Legged Conveyors also allow for improved cleanability and maintenance access, but may also require structural anchorage considerations since they'll be top-heavy when in operation.

Overhead Installation

Saving floor space and freeing up areas for more storage, traffic, and other equipment, Overhead Installation or Overhead Conveyors open up many options for space-conscious buyers. This type of installation scheme also presents several additional style options, such as the empty carton hooks shown in the photo to the left.
Material Handling Conveyor Styles
For our final step in selecting mechanical conveyors, we'll choose the conveyor style needed. Complete conveyor systems are built by combining multiple styles together, and it's entirely plausible that many different styles, surface types, power types, and other variances all end up within a single system.

Straight Conveyor

Simply put, the Straight Conveyor styles describes a rigid, straight frame conveyor segment that is available in all surface types, power types, and mounting scheme. Straight Conveyor segments are the most basic building block used in complete conveyance systems.

Corner Conveyor

Corner Conveyors or Angled Conveyors pair with the above Straight Conveyor segments in order for a conveyance system to change direction. Corner Conveyors are commonly available in 15, 30, 45, 60, 75, and 90 degree turns. All surface types other than belt and chain tops can work with corner conveyors. Consideration for product drift around corners is often called for with roller and skate surfaces.

Flexible/Extendable Conveyor

Flex Conveyors are unique conveyor styles that feature accordion side rails, allowing them to freely form angled, offset, and curved paths. Flexible Conveyors work best with roller and skate wheel surfaces.

Accumulation Conveyor

Where product and packaging surge capacity is required, Accumulation Conveyors provide buffer space to stage materials within the overall workflow. These conveyors are most commonly roller and belt surface types.

Pallet Conveyor

Pallet Conveyors transport pallets, as you might have guessed! These conveyor styles are typically built in heavy-duty, high capacity, low- or floor-mount configurations.

Vertical Spiral Conveyor

Raising or lowering materials to different elevations can be done in a small footprint through the use of Vertical Spiral Conveyors. Spirals are most commonly delivered in roller, table-top chain, and skate wheel surfaces, though the latter only for light-duty applications. Uphill conveyance often calls for a powered drive type, whereas downhill conveyance is often done with by gravity.

Incline Conveyor

For applications requiring gradual elevation changes, higher weight capacity, firmer traction and slip control, and more precise start/stop control, Incline Conveyors are the desired alternative to the above Spiral Conveyors. Inclines Conveyors are most often delivered with powered belt and table-top surfaces when flowing uphill, and gravity roller and skate wheel surfaces when flowing downhill.

Telescoping Conveyor

Rounding out our list of conveyor types, Telescoping Conveyors combine the space-saving and modularity benefits of Extendable Conveyors with the weight capacity and resilience of Straight (frame) Conveyors. Telescoping Conveyors can collapse down to small footprints when not in use and can extend out straight when needed. This style is commonly used at loading docks, extending into truck trailers for loading and unloading loose packages.
---
Associated & Stoffel Equipment Company serve the Upper Midwest's Material Handling market with Integrated Supply Chain Solutions, Warehouse and Distribution Operation Optimization, Lift Truck Fleet Management, and Consulting Engineering services. We assist customers onsite and remotely from our Addison, IL corporate office and five regional branches near you. For more information or to discuss your Material Handling project needs, please visit our website here, or contact us at dtworek@associated-solutions.com or (800) 755-7201.
---
#conveyorsystems, #typesofconveyors, #conveyingsystems, #materialconveyingsystem, #warehouseconveyors