Safely Dispose of Hazardous Materials
Safely Dispose of Hazardous Materials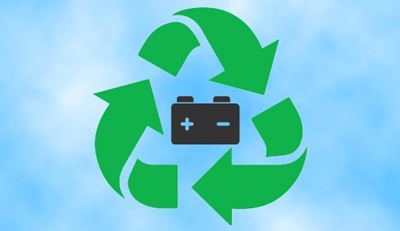 Recycling Lead-Acid Batteries.
Lead-acid batteries are the environmental success story of our time. More than 97% of all battery lead is recycled. Compared to 55% of aluminum soft drink and beer cans, 45% of newspapers, 26% of glass bottles and 26% of tires, lead-acid batteries top the list of the most highly recycled consumer product.

The lead-acid battery gains its environmental edge from its closed-loop life cycle. The typical new lead-acid battery contains 60-80% recycled lead and plastic. When a spent battery is collected, it is sent to a permitted recycler where, under strict environmental regulations, the lead and plastic are reclaimed and sent to a new battery manufacturer.
Why recycle lead-acid batteries? Lead-acid spent batteries contain certain toxic components which pose a potential risk to the environment and human health. Recycling batteries:
Saves Natural Resources: By making products from recycled materials instead of virgin materials, we conserve land and reduce the need to mine for more minerals.


Saves Energy: It takes less energy to make a recycled battery.


Saves Clean Air and Water: In most cases, making products from recycled materials creates less air pollution and water pollution than making products from virgin materials.
As a lead-acid battery owner, you're responsible for making sure your waste batteries are disposed of in accordance with state and federal laws. However, the laws and regulations for disposal of lead acid batteries vary from state to state. Nevertheless, some material handling dealers will pick up your battery at no charge and recycle it for you in accordance with local regulations. They will also provide you with a receipt or bill-of-lading which should have the quantities and serial numbers of the batteries you are disposing of.
Once the recycling location has accumulated enough product they will send it to an EPA-certified smelter to recycle the product. The smelter will provide a Certificate of Recycling and a copy will be provided to the recycling location and to the consumer. This must be kept on file a minimum of five years.
Contact your local material handling dealer for more information and to make arrangements for pick-up and proper disposal of your waste batteries.


---