Containing Service Costs through Good House Keeping
Containing Service Costs through Good House Keeping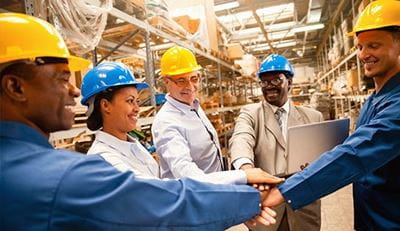 Tips to Minimize Unnecessary Forklift Repairs
Maintaining good housekeeping practices in the warehouse is often associated with improvements in safety, productivity, and morale. However cost savings related to forklift repairs and downtime is often overlooked. Debris such as strapping, stretch wrap, and broken pieces of pallets lay havoc on the tires, linkages, and moving parts of a forklift. "Dock Shock", a term used for the impact created when a forklift is driven over areas of damage on the warehouse floor or improperly adjusted dock plates, will cause stress to tires, drive units, and weldments as well as physical stress to the operator.
OSHA requires us to practice good housekeeping in two different regulations (29 CFR 1910.22(a) and 1910.141 (a)). They focus on the importance of keeping the work area clean and neat and the aisles clear.
Although there are numerous fleet maintenance programs offered through the material handling dealerships, tire replacement and damage is generally not included in the monthly rate. To help control these avoidable costs, there are several practices that can be implemented in the workplace:
Implement an "adopt an aisle" program to promote a clean/safe work environment. Allow the adopter to have their name posted and perhaps some additional perks or awards for their efforts.


Ample receptacles should be available to ensure employees can easily dispose of trash.


Floors in high-traffic areas should be swept at least once each shift.


Debris such as strapping, stretch wrap, broken pallet pieces, etc. should be picked up and disposed of immediately.


If it is a dusty or slippery environment, establish a regular mopping or floor-scrubbing schedule.


Verify that all pallets and product are properly pushed back into the racking, thereby reducing the chance of a forklift hitting product that is hanging out into the aisle.


Periodically inspect warehouse floors, dock plates, ramps, etc. to ensure that they are in good operating condition.


Be sure your operators perform an inspection of the forklift (Operator's Daily Checklist) prior to the start of their shift, to identify any damaged tires, oil leaks, or shrink wrap around motors or axles. A copy of an Operator's checklist is available from your local forklift dealership.
Remember that these are controllable costs that can add up quickly if proper attention is not paid to warehouse housekeeping.
---
Fleet Management