Blue Spot Light on Safety
Blue Spot Light on Safety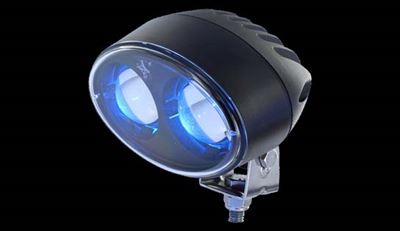 If you spend any significant amount of time in a modern warehouse or cross dock, you have likely seen a bright blue dot moving across the floor directly behind the forklifts.
While they are relatively new to the industry, they are quickly becoming a mandatory safety item in many industrial environments. They offer some very unique advantages over backup alarms and other devices. Here are a few of the key things to consider: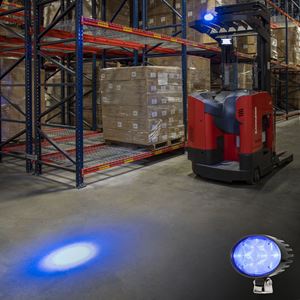 Not affected by Sound: In busy industrial environments, the sound level can drown out a backup alarm. In fact, applications like mills often require the use of hearing protection, which directly hinders alarms as a safety device. Blue Safety lights are not affected by these concerns, making them an ideal device for these applications.


Directional: In areas with multiple forklifts operating at once, the ambient noise and multiple alarms often make it impossible to distinguish where the sound is coming from. Blue Safety lights are very clear and definite- See a blue dot, know equipment is moving. In addition, you can immediately tell which direction the equipment is traveling, even if it is hidden around a corner or racking.


Intuitive: Visitors and those not familiar with industrial environments do not need training to recognize the visual aspect. It is very instinctive to follow movement with the eye, even if they are distracted, wearing headphones, talking, or otherwise not fully aware.


Ideal for electric forklifts: As the industry has quickly adapted to the use of electrics for lower emissions and operating costs, an unexpected issue has been the safety concerns of pedestrian/forklift interaction. Silent electric forklifts benefit greatly from the increased awareness offered by Blue Safety Lights.


Cost-effective: They are built using ultra bright LEDs which are so long lasting they can be considered a lifetime bulb. Compare this to audible alarms and strobes, which require periodic replacement. This saves on maintenance costs, and replacement parts costs. Installation is simple, and the low power consumption does not load electrical systems substantially. In addition, they are compatible with various voltages.
---