Industrial Facility Pedestrian Safety Tips
Industrial Facility Pedestrian Safety Tips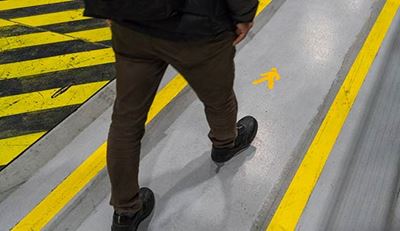 An accident with a forklift can lead to a very serious injury, or even death. Here are some tips to ensure pedestrian safety.
A loaded forklift truck can weigh up to 15,000 lbs. and being struck by a forklift is like getting hit by 2-3 full-sized pickup trucks at the same time.

OSHA data shows there are 95,000 forklift-related accident injuries each year, with 35,000 of these resulting in serious injury and almost 100 worker deaths! Because of these dangers, pedestrians must always be on alert when walking near powered industrial trucks.
Below are a few tips to ensure pedestrian safety:

Always give the right-of-way to powered industrial trucks, even if the facility policy states otherwise.


Pay close attention to posted caution signs and floor markings and stay within the designated pedestrian aisle ways at all times.


If you enter a pathway intersection or have to cross an aisle, it is your responsibility to look for oncoming vehicle traffic and allow them to pass first.


Never assume that an operator is consenting for you to proceed in front of their vehicle without them first stopping, looking you in the eyes, and then waving or head-nodding you through.


Watch for lights and listen for horns, vehicles approach quickly following these warnings.


Stay out of restricted areas to avoid surprising vehicle operators and wear bright-colored safety vests when possible, especially in areas pedestrians are not typically present.


Expect the unexpected. Vehicles may approach you from any angle and can enter intersections quickly. Sometimes vehicle operators are distracted and veer into your path.


Never walk under the path of a raised load of a powered industrial truck. The operator may not notice your presence and inadvertently lower the load or forks onto you.


Do not use cellular phones while walking in an industrial facility where vehicles may be present and limit group conversations to brief pertinent communications. Distractions can limit your ability to properly focus on the fast-moving powered industrial truck vehicle traffic.
---
Safety Training